Center for Book, Paper & Print
A series of pedagogically-based collaborations designed for artists such as Alison Knowles, the Guerrilla Girls, and Laura Anderson Barbata to engage with Columbia College Chicago Interdisciplinary Arts graduate students.
The online exhibition featured in the video here documents the collaborative hand papermaking editions by Venezuelan Yanomami artist, Sheroanawë Hakihiiwë. They were created at the Center for Book, Paper & Print under the direction of Melissa Hilliard Potter, Associate Professor at Columbia College Chicago.

The artworks produced contribute to the rare documentation created by the Yanomami about their community, as their historical tradition is predominantly oral. The symbols featured in the artworks are inspired by Hakihiiwë's mother, who like other women in the community painted these symbols on babies for protection.
The online exhibition of this work was produced in Professor Potter's graduate Art as Practice course in Spring 2017.
Student Curators: Colleen McCulla, Book and Paper; Robyn Day, Photography; Sarah Hiatt, Photography; DW McCraven, Interdisciplinary Arts; Willa Goettling, Book and Paper; Lynn Elam, Book and Paper; Phil Worfel, Interdisciplinary Arts
Shapono - Circle of Stories: Works of Sheroanawë Hakihiiwë
Working on a collaboration with The Guerrilla Girls making banana paper for a student interactive activist poster workshop.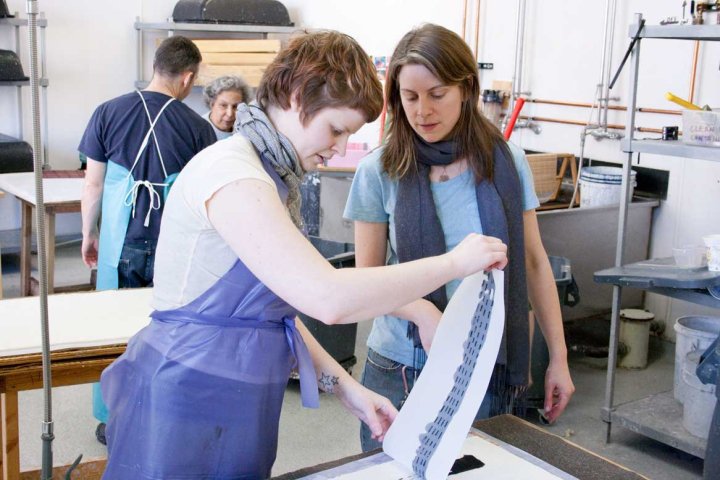 Book & Paper alumna, Kaitlin Kostus (left) works on one of Sheroanawë Hakihiiwë's edition images.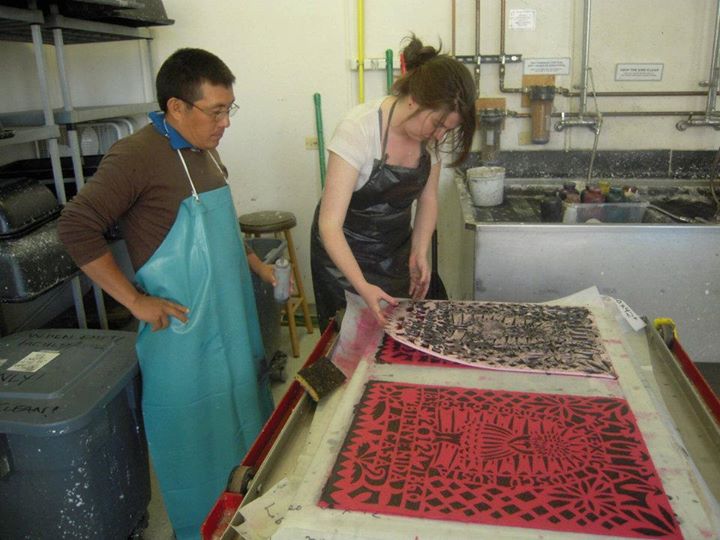 Book & Paper alumna, Boo Gilder creates papel picado-inspired pulp paintings for Laura Anderson Barbata.
Collaborative Zine Course, Julia Pastrana: Becoming, in tandem with the exhibition, Revolution at Point Zero: Feminist Social Practice co-curated by Melissa Hilliard Potter and Neysa Page-Lieberman.